Viper
Physical Information
Species
South American Bushmaster
Sex

Male

Appearance
A Long Snake
Personal Information
Nicknames
Red (By Pops)
Occupation
Member of The Flushed Pets
Residence
New York
Production Information
Debut
The Secret Life of Pets
Voiced by
Kevin Michael Richardson (uncredited)
Viper is a huge red snake and the secondary antagonist who appears in The Secret Life of Pets. He lives in a pipe and he can execute a ceremony for a new member of The Flushed Pets - bitten by him. At this ceremony, a hidden long tooth appears to bite the animal.
Viper is voiced by Kevin Michael Richardson, yet his name doesn't appear in the end credits.
Bio
Max and Duke are told by Snowball that they need to be bitten by Viper, after they convince Snowball that they are no longer domesticated by making up a story that they murdered their owner. Max is chosen to be the first one, but the animals are stopped by some members of The Alley Cats, who reveal that Max and Duke are actually domesticated.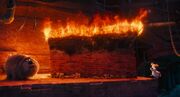 Hence, the flushed pets start attacking the two dogs. Duke then bites Viper by tail and wipes out approaching animals, even Snowball, and throws him onto a pipe. Viper then tries to attack Max, but he is tied around the pipe and his big move causes two piles of bricks and a big piece of concrete to crush him to death, and the concrete bursts into flames. Viper is also called "The Sacred Viper" by Snowball when he was mourning him. Snowball also said that perhaps his death was long-overdue, for he had not been very sin-free.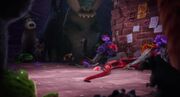 The death of Viper causes all animals of The Flushed Pets to vow to catch Max and Duke. Later, when Pops leads Gidget and her neighbors in search of Snowball, Viper is seen, still lies at the same place with only his tail visible. Snowball sobs bitterly, saying that Viper won't be forgotten and he picks up Viper's tail and punchs it, but it falls down as seen that he has been dead for hours. And then Snowball starts to explain to The Flushed Pets his revenge plan on the dogs.
Looks
Viper is a Red snake with long neck, One Green eye, and a Colorless Blind Eye.
galley
Trivia
Pops apparently knows the Viper, but it's unknown what relation they have with each other.
He is similar to Nuka from The Lion King 2: Simba's Pride.

Both are the secondary antagonists.
Both are one of the only antagonists who don't reform.
Both die near the end.