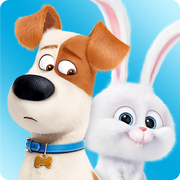 The Secret Life of Pets: Unleashed
or for short Pets Unleashed was a Match-3 game published by EA. It was released on June 22, 2016. The game was available on App Store and Play Store.
It was aimed at children and teens aged 6-12.
The game was removed from the App Store and Play Store on May 22, 2017, same day as Minions Paradise.
Gameplay
The Secret Life of Pets: Unleashed is a match-3 game featured with the characters of The Secret Life of Pets. Each character has its own level. In the game you combine different toys to get points. The toys are yellow tennis ball, green star, pink heart, blue bone and orange treat. To get points, you have to combine same 3 or more toys in a row by swapping the places of 2 toys. You have limited moves in the game and if your moves end and you haven't reached the points yet, you can buy more moves or start the level over. You have limited lives too, if they end, you can't play anymore. Then you can watch a video or wait to get more or buy. There is coins too, with you can buy things. After you finish the level you get stars by your points. 3 stars is the best result.
Description of The Secret Life of Pets: Unleashed
Game Description
Get up close and personal with the insanely cute characters from The Secret Life of Pets™ in this sensational match-3 game. From EA and Illumination Entertainment—the creators of Despicable Me and Minions—comes a matching adventure that's the perfect blend of pets, puzzles, and personality.
Types of Levels
Max Levels

Max misses Katie! Earn a certain amount of points to succeed, and the faster you get the points, the sooner Katie will come back!

Rock out with Leonard! Make matches to collect the items that Leonard is asking for. He might want specific Toys, Super Toys, or other items.

Gidget is taking a nice bath. Give her gorgeous Spa Day by dropping the Bath items to the bottom of the level that can be cucumbers, shampoo bubbles or roses. Bath Items fall from the top of the game board and are collected.
Chloe is a cat who loves food. Make matches to break frosted tiles and reveal the hidden pieces of Cake.
Liberated forever! Domesticated never! Snowball is a cute little bunny who is bent on world domination. Reveal Carrot keys to help Snowball bust Tattoo out of Animal Control.
Mel Levels
The Squirrels are taking over tiles and Mel needs you to get rid of them. Make matches next to the squirrels to make them disappear.
Duke is a big and sloppy mutt. Help Duke dig up all the Bones he buried in the dog park. Make matches next to Dirt to uncover Bones.
Super Toys
Match four or more of the same Toys in different shapes to create powerful Super Toys. Activate Super Toys by matching them with two or more Toys of the same color, or combine with another Super Toy for a special surprise.
Line Clear
Match four of the same Toys to create a Line Clear. Use it in a match and it will clear an entire column or row.
Parakeets
Match four of the same Toys in a square (2x2) to create a Parakeet. Use it in a match and it will fly off to clear an obstacle or remove a Toy. You can too add an extra Toy to a square match to release an extra Parakeet. Parakeets can too combine two Parakeets (any color) to release 3 Parakeets and team up a Parakeet with any Super Toy for a fun effect.
Rainbow Ball
Match five of the same Toys to create a Rainbow Ball. Combine it with any Toy to remove all Toys of that color from the game board.
Blast Toy
Match five of the same Toys in a T or L shape to create a Blast Toy. Use it in a match to blast away surrounding Toys.
Toy Painter
Match six Toys to create a Toy Painter. Combine it with any other Toy of a different color to paint all Toys of that color to match the Toy Painter. For an extra surprise, combine a Toy Painter with another Super Toy.
Combining Super Toys
Combine two Super Toys for more powerful effects.
Combine Parakeets and Line Clears to clear hard to reach areas.
Combine two Parakeets to release three Parakeets.
Combine a Rainbow Ball and a Parakeet for a flock of Parakeets.
Combine two Blast Toys for a larger blast.
Experiment with different Super Toys to discover all of the combinations.
Power Ups
Power Ups are special Pet abilities that can give you an edge.
Chloe Laser Smash
Aim the Chloe Laser Power Up at one square on the game board and she will Smash it for you.
Select a square and Norman will clear the whole row and column of that square.
Obstacles
A variety of Obstacles will appear in different levels and you can use your matching skills to get around them. 
Cages
Cages lock a Toy in place. Remove Cages by including the Toys inside them in matches. When you make a match and remove the Cage, the Toy will stay on the game board but you can move it now. Some cages may have Squirrels, Frogs, or Leashes inside. In this case, make a match next to the cage to remove it.
Pet Treats
Pet Treats cover tiles and block progress. Match nearby Toys to clear each treat off of the pile.
Portals
Toys dropped into blue portals at the bottom of the level will emerge from the yellow portals at the top.
Scrolling Levels
Some levels are longer than one screen. The game board will scroll automatically while you play.
Locked Vent
Norman is locked in a vent. Make nearby matches until you set him free.
Squirrels
You can find Squirrels in Mel's levels. Match nearby Toys to clear Squirrels from the game board.
Coiled Leashes
Leashes slow your progress. Make matches next to rolled up leashes to remove them from the game board. Leashed can also be swapped with other Toys.
Frogs
Each turn, this Frog will destroy a Toy that is next to it. Match nearby Toys to remove Frogs.
Dirt
Dirt covered tiles block progress. Match nearby Toys to clear away the dirt.
Squirrels with Acorns
More shifty than your average squirrel. The first adjacent match will make the Squirrels drop their acorn and the second will remove the Squirrel completely.
Frosted Tiles/Covered Tiles
Make matches over these tiles to reveal the prizes underneath like Chloe's Cake or Snowball's Carrots.
Characters
Playable
Unplayable
Gallery