The Secret Life of Pets is an American computer-animated comedy adventure film produced by animation studio Illumination Entertainment. The movie recieved its theatrical release by distributor Universal Studios on June 24th, 2016 in the United Kingdom, and July 8th, 2016 in the United States. The movie is directed by Chris Renaud & Yarrow Cheney (both from Despicable Me & Despicable Me 2) with Brian Lynch, Cinco Paul and Ken Daurio as scriptwriters. The film also features Louis C.K., Eric Stonestreet and Kevin Hart, who join Ellie Kemper, Lake Bell, Jenny Slate, Bobby Moynihan, Hannibal Buress, Albert Brooks, and Steve Coogan in the movie cast.
Plot
The film opens in New York City, where a little dog named Max is going for a bike ride around the park with his owner Katie. Max tells us how Katie found him when he was a puppy, and since then, he's had it good.
After Katie leaves for work, Max just sits at the door and waits for her to come home. We meet the other pets that live near Max, including Gidget, Chloe, Mel, Buddy, and Sweetpea. Gidget has a crush on Max, which he is unaware of. Chloe is a fat cat that eats her owner's food instead of her own. Sweet Pea is a little bird that turns on the fan and pretends to fly with jets on TV. We also see Leonard the poodle being left with classic music, but he switches it to System Of A Down's "Bounce" when his owner leaves. Max is visited by Chloe, Buddy, and Mel, along with a lost guinea pig named Norman.
That night, to Max's horror, Katie brings home a bigger dog named Duke. Max quickly makes it clear to both Duke and Katie how he feels about Duke being there, but Katie hopes it'll work out between the two of them. Duke overhears Max barking to Katie after Duke tries to sleep in the same bed as Max. Hurt, Duke says he'll do whatever it takes to ensure he stays in this home. He forces Max to sleep on the floor.
The next morning, the dogs are left alone after Katie goes to work. Duke eats food from both his bowl and Max's. Duke then runs toward the wall and knocks over a vase. Max takes the opportunity to make a big mess and have Duke blamed for it so Katie can get rid of him.
Max and Duke get taken out by a dog walker along with Mel and Buddy. When they are unleashed at the park, Duke calls Max over to a hidden area and then drags him away from the park with no one noticing. They end up in an alley where dozens of cats led by the hairless Ozone antagonize them. They take the dogs' collars from them. Duke runs away and leaves Max behind, only to come back when animal control officers chase after them. Max and Duke get kidnapped.
Gidget peeks out her window and sees Mel and Buddy, but no Max. She watches a Spanish soap opera and is inspired to go after her one true love. She runs to the rooftop and finds a hawk named Tiberius in his coop. He tries to eat Gidget at first, but then realizes that's a bad thing. She asks for his help in finding Max so that she can be his best friend. Tiberius flies away immediately.
Emerging from the sewers is an adorable bunny named Snowball. The animal control officers stop the truck, and one walks over to him. Snowball goes wild and beats the man up while his two lackeys, a lizard and a tattooed pig named Tattoo, attack the other officer. They hijack the truck and ride away. Snowball makes a key out of a carrot and breaks out one dog named Ripper. The truck crashes against a wall. The animals are about to leave Max and Duke behind until they beg to be saved. Snowball says they are part of the Flushed Pets, as they were abandoned by their owners, and he won't save Max and Duke because he knows they're domesticated. The dogs lie about killing their owner to get on Snowball's good side, and he frees them before the truck explodes. Max and Duke follow him into the sewers.
Tiberius flies up to the roof with Ozone. He coughs up Max's collar in front of Gidget, but he won't say anything else. Gidget starts slapping Ozone until he admits that he knows Max and Duke are in the sewers. Gidget recruits Mel, Buddy, Chloe, Sweetpea, and Norman to help find the dogs. Although hesitant at first, Chloe convinces the others to help since Max has helped them out before.
Max and Duke are brought into the lair of The Flushed Pets. All of them hate humans for abandoning them, and they plan to wage war against them. Snowball asks the dogs to tell everyone the story of how they killed their owner. Max and Duke make up that they killed her with a blender, which delights Snowball. He brings them to be initiated by getting bitten by a one-fanged viper. Max is the first to go until the alley cats come in and reveal to the Flushed Pets that they just took Max and Duke's collars earlier. The animals then start attack, but Duke defends himself by shaking Viper by tail and then wrap it around a pipe, which causes the brick ceiling to break off and crush Viper when it tries to attack Max. The dogs escape and are flushed out into the river outside the city. They hop on a ferry that takes them to Brooklyn. Snowball vows to find them and get his revenge.
Buddy brings the pets to the home of an elderly dog named Pops. Pops has all the pets in the neighborhood over since his owner is rarely around, and Pops knows all the pets in the city. He guides the pets to the roof in his own way toward the sewers. Once they get there, they find The Flushed Pets with Snowball plotting revenge. When both groups learn that they know Max and Duke, the Flushed Pets chase after the house pets. Norman ends up getting captured by a crocodile and is left behind (though he's not too worried about it).
Max and Duke make it to Brooklyn, and they are both hungry. Duke sniffs out a sausage factory, Weiner Kingdom. The two run in and feast on all the sausages they can find, leading to a weird sequence where they imagine the sausages singing Greases' song "We Go Together". Afterward, the dogs start to warm up to each other. Duke then talks about his previous owner, an older man named Fred. Fred had Duke since he was a puppy, but Duke ended up running away and was captured by Animal Control until Katie found him. Max decides to go look for Fred to bring Duke home.
The dogs find Duke's old home, but they come across a cat, Reginald, telling them to leave. Duke asks about Fred, and the cat claims that Fred has died. The family that now lives in the house comes home, and Duke starts barking at them. He gets mad at Max for bringing him there since he knows Max was always trying to get rid of him. Almost immediately, the Animal Control officers show up and take Duke, who lets Max run away. Max instead chases after the truck.
While Max goes to save Duke, Snowball comes out of the sewers with Tattoo and the lizard. They spot Max and chase after him, but Tattoo and the lizard get taken. Max and Snowball decide to team up and chase after the truck. They hijack a bus and follow the truck to the Brooklyn Bridge. The bus falls and causes a traffic jam while the truck swerves off the bridge and gets stuck. The Flushed Pets surround the bridge as they find Max pulling Snowball out of the bus, thinking he killed Snowball. Before the Flushed Pets can get Max, the house pets arrive with Gidget riding Tiberius. She proceeds to pound all the Flushed Pets by herself, which impresses Max. Max rushes to save Duke, but the truck falls into the river with both dogs in it as Max tries to get the keys. Snowball then plunges into the river and gets the keys back to Max so he can get Duke out, and they all swim to the surface.
Tattoo steals a taxi and drives the pets back home. Max tells Gidget how he started to feel after seeing her fight the other animals, and she excitedly starts licking him. The Flushed Pets are about to return to the sewers until Molly sees Snowball and adopts him, making him happy once again. The other pets return to their owners right before they all get home. Katie comes home and see Max and Duke waiting for her together. She is happy to see the two of them getting along. The three of them then go out onto the fire escape to see the city at night. Max and Duke have now become good friends.
During the credits, Mel and Buddy go to a party at Leonard's Apartment, with Snowball and seeming of The Flushed Pets in attendance. Leonard's owner comes home, before this, all the animals hide themselves. When the owner asks Leonard if he was a good boy, Tattoo falls from the ceiling on a chandelier.
After the list of cast and crew is completely shown, a voice of Pops says "All right! Party's over."
Cast
Production & release
The very first outline for the film was made on March 30th, 2012. The production of the then-untitled animated pet movie was greenlit and announced by chief producer and studio founder Chris Meledandri on January 19th, 2014 at Deadline, casting Louis C.K., Eric Stonestreet, and Kevin Hart.[7] This film was to be the fifth feature film collaboration between Universal Pictures and Illumination Entertainment. The movie cast's roster was announced to also include Hannibal Buress, Lake Bell, Bobby Moynihan and Ellie Kemper in June 2014 with a scheduled Spring 2016 release.[8] Though The Secret Life of Pets was scheduled for theatrical release on February 12th, 2016, it was delayed to Summer 2016 with the announcement of the title.[9]
The first trailer for international release was uploaded on Illumination Entertainment's YouTube channel on June 17th, 2015. This was followed by a Christmas-themed festive special for the winter season which was uploaded on November 25th, 2015 and an Easter-themed special on March 21st, 2016. The behind-the scenes featurette involved the production staff and crew of The Secret Life of Pets discussing the premise of the film and their experience of its production phase. The second trailer was uploaded onto Illumination's YouTube channel on January 28th, 2016 and the third trailer on April 11th, 2016. The theatrical release of the film is accompanied by an animated mini-movie based on the Despicable Me universe and titled Mower Minions. The film will receive a home video release in December 6th, 2016 after the summer theatrical-exclusive run, with the other two mini-movies, Weenie and Norman Television.
In addtion, there are several companies that gave commercial promotions based on the materials from the film, including General Mills, McDonald's, PetSmart, and Spin Master.
Sequel
Main article: The Secret Life of Pets 2
A sequel, with director Chris Renaud, producers Chris Meledandri and Janet Healy, and writer Brian Lynch returning is scheduled to be released on June 7, 2019.
Affliated Media
Gallery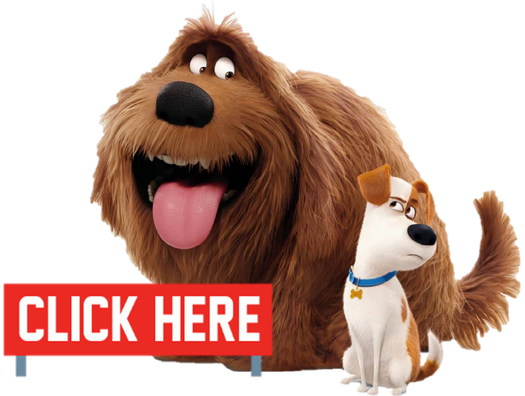 Videos
Character Features
3D Turnaround Models
Soundtracks
To view the soundtrack list for The Secret Life of Pets, click here.
For the list of excluded songs, click here.
Mini-Movies
Others
Trivia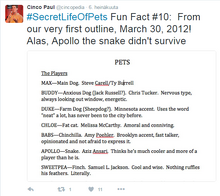 In the beginning of the film, a mini-movie called Mower Minions can be seen before the main plot starts.
One of the cars in the film plays Happy, one of the notable songs in Despicable Me 2.]
In the movie, they have some Minions references like:

Mel's costume in Snowball's party.
On Katie's refrigerator, there is a minion magnet.
In Norman's Owner's apartment, he has two minion toys on his nightstand.

The movie's title was Max for two years so no other studio would know they were doing a movie about pets.
According to Cinco Paul, the very first outline of the movie looked differently compared to the film (as the picture at the right shown).
While all credited as additional voices in this film, Bill Farmer, Jason Marsden and Jim Cummings all previously worked together in both A Goofy Movie (1995) and An Extremely Goofy Movie (2000). Another additional voice, Bob Bergen previously worked in Scooby-Doo and the Cyber Chase (2001).
There is a woman appears in Brooklyn who is horrified by disguised Snowball and Tattoo. She is also one of the residents in the Apartment Building where Max lives and she's the neighbor of Buddy's Owners.

The place where she meets the animals is in front of Zarelli's, a shoe shop; while in Despicable Me 2, Zarelli's is an Italian restaurant.

The events of The Secret Life of Pets take place during the month of October in (presumably) 2010. A calendar is in the kitchen of Max's Apartment and it reads October. Though, some items actually exist after 2010; for example, the song Happy was released in 2013 while Peanut's camera, a Go Pro Hero 4, wasn't available until 2014.
This is the only The Secret Life of Pets media in which Max is voiced by Louis C.K. as he was dropped from The Secret Life of Pets 2.
Rating
Rated PG for Action and Some Rude Humor (in America)
Rated U for Universal (in United Kindgom)
Reception
The Secret Life of Pets received mostly positive reviews. The critical review aggregator Rotten Tomatoes gave the movie it a 74%, saying, "Fast-paced, funny, and blessed with a talented voice cast, The Secret Life of Pets offers a beautifully animated, cheerfully undemanding family-friendly diversion." It grossed $875.5 million worldwide and was named the highest-scoring animated film of 2016.
References
External links