Brooklyn Bridge
Brooklyn Bridge in The Secret Life of Pets.
Geographical Information
Type
Suspension bridge
Location
Brooklyn, New York
Level
Single-storey bridge
Location Profile
Users
Commuting humans
Status
Damaged by The Flushed Pets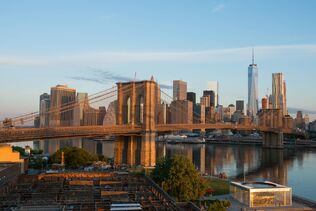 Brooklyn Bridge is a large urban suspension bridge in New York and a location in the The Secret Life of Pets universe. The bridge crosses the East River's main waterway, supporting a suspended dual motorway connecting Brooklyn to Manhattan and an elevated walkway in between for commuting humans. The roadway is surrounded by a metal railing to protect the road traffic and nearby humans.
Bio
The opening scene of the film reveals that the apartment building the pets live in is not far from Brooklyn Bridge as the landmark is visible from outside it. The bridge links Brooklyn to Manhattan, suggesting that the pets live on the outskirts of the district.
The apartment pets form a rescue team led by Gidget to track Max who is missing across the alleyways of Manhattan. When Tiberius flies Gidget to Brooklyn, he flies over Brooklyn Bridge and passes the Freedom Tower dominating downtown New York's skyline.
In one scene near the end, Snowball drives a public bus with Max inside onto Brooklyn Bridge and wreaks havoc with the city traffic. The bus eventually goes out of control and smashes the railing, plunging the Animal Control van off the bridge and into the scaffolding. Max takes Snowball out after the crash, but it is mistaken by The Flushed Pets that he was going to hijack Snowball, resulting all scary animals of the gang swarm out and occupy the bridge. Gidget finally arrives to save Max, before he gets the keys to free Duke and the van falls into the East River.
Gallery
To view the gallery for Brooklyn Bridge, click here.